Chevrolet Tire Center in Chantilly, VA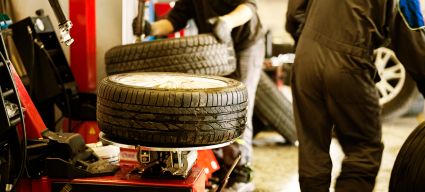 As the only part of your Chevrolet that's in contact with the ground, you need your tires to be in top condition to help you stay safe whenever you're behind the wheel. For this reason, we're proud to offer the services of our Chevrolet Tire Center! In addition to performing routine maintenance tasks, we can also help you find a new set when it's time for a replacement. Visit Pohanka Chevrolet for more information!
Tire Maintenance
Given the amount of strain that they're constantly under, it's no surprise that tires require regular maintenance. Typically, the most frequently performed task is a tire rotation. This simple process of swapping the front pair for the rear ensures that everything wears down at an even rate, since the former face greater strain from turning and braking. If you neglect this job, then you may have to replace the front tires sooner than the back ones, which is more costly in the long run as opposed to buying four tires at once. A good rule of thumb to follow is rotating your tires whenever you have your oil changed.
When Should I Replace My Tires?
Generally, it's preferable to replace old, worn-out tires before you start to notice decreased performance. Since tires with low tread are less safe to drive on, you could be putting yourself and those around you at risk by going too long without a new set. Thankfully, there's a quick, at-home test you can perform to determine if it's time to spring for new tires! Simply insert a penny head first into the tread and check to see if Lincoln's head is visible or not. If you can see the whole head, then it's in your best interest to visit us sooner rather than later!
Our Tire Center
Though you have the option to shop online for tires, most clients like to have our expert technicians assist with the process. First, we'll ask about your vehicle, daily driving habits, and type of driving you do, so we can recommend a specific brand that's just right. Once you have what you need, our mechanics will gladly install your new tires while you sit back and relax, so you can drive home with peace of mind. Best of all, we often have deals on tire-related services, meaning you could save some cash, too!
Your search for a dependable Chevrolet Tire Center in Chantilly, VA, is nearly over. Once you witness all that Pohanka Chevrolet can do, you'll want to be a customer for life. Hopefully, you'll visit us soon, so we can show off our potential!
Testimonials
GOOGLE
7-9-2020
GOOGLE
7-9-2020
GOOGLE
7-8-2020
GOOGLE
7-8-2020
GOOGLE
7-8-2020
GOOGLE
7-5-2020
GOOGLE
7-4-2020
GOOGLE
7-4-2020
GOOGLE
7-4-2020
GOOGLE
7-2-2020
GOOGLE
7-2-2020
GOOGLE
7-2-2020
GOOGLE
7-2-2020
GOOGLE
7-1-2020
GOOGLE
7-1-2020
GOOGLE
7-1-2020
GOOGLE
6-30-2020
GOOGLE
6-30-2020
GOOGLE
6-29-2020
GOOGLE
6-29-2020
GOOGLE
6-29-2020
GOOGLE
6-29-2020
GOOGLE
6-27-2020
GOOGLE
6-26-2020
GOOGLE
6-26-2020
GOOGLE
6-25-2020
GOOGLE
6-25-2020
GOOGLE
6-24-2020
GOOGLE
6-24-2020
GOOGLE
6-24-2020
GOOGLE
6-24-2020
GOOGLE
6-24-2020
GOOGLE
6-23-2020
GOOGLE
6-23-2020
GOOGLE
6-22-2020
GOOGLE
6-22-2020
GOOGLE
6-22-2020
GOOGLE
6-22-2020
GOOGLE
6-22-2020
GOOGLE
6-22-2020
GOOGLE
6-21-2020
GOOGLE
6-20-2020
GOOGLE
6-20-2020
GOOGLE
6-19-2020
GOOGLE
6-19-2020
GOOGLE
6-19-2020
Read More