Collision Repair in Fredericksburg, VA

Always There for You in Your Time of Need
When your vehicle is in need of assistance after you experience a collision or accident, we can help you out here at Pohanka Automotive Group. We are partnered with the renowned Caliber Collision, the loyal and dependable company for your collision repair in Fredericksburg, VA. No damage or repair is too small or too big for us to handle – bring in your vehicle to one of our locations today!
With over 400 Caliber Collision centers located across the country, you can have peace of mind that you will always be taken care of in your time of need. Even if it is the middle of the night, Caliber Collison is there for you. Not only do they provide our patrons with a 24/7 customer service call center, they also offer towing services all day and all night. What's more, they'll even tow your vehicle to the Caliber location of your choice.
If you do find yourself in need of collision repair, they provide our customers with a free online estimate. Since they use a state-of-the-art computer database to correctly calculate every recommended part, your estimate will be accurately processed. Once you head to their online estimate page, all you need to do is input information pertaining to yourself and your vehicle, upload any photos of the damage repair needed, and hit submit.
Caliber's collision repair in Fredericksburg, VA, is thorough, precise, and exceptional. Their well-trained mechanics provide the utmost care and attention to detail that your vehicle deserves. During the repair process, they will contact you to provide you updates on your vehicle, so you're always in-the-know. They also perform various inspections throughout to ensure your vehicle is in top condition. Once the repair process is over, the mechanics even smooth, sand, prime, and paint the body of your car for a pristine finish.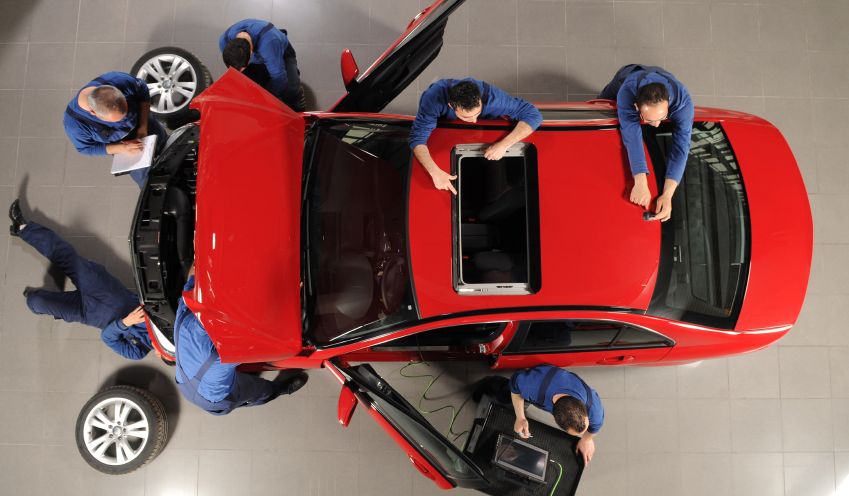 If your vehicle requires to be worked on for a longer period of time, and you're in need of a vehicle, Caliber Collision can help you out. Thanks to their partnership with Enterprise Rent-a-Car®, Caliber will set you up with a vehicle to hold you over until your car's repair is finished. And, with Caliber's lifetime warranty* on all of the vehicles they service, rest assured that you will be taken care of should anything happen while out on the road.
From paintless dent repair, to auto glass repair, we offer it all at Caliber Collision. We at Pohanka Automotive Group trust our friends at Caliber 100 percent, which is why we offer your collision repair in Fredericksburg, VA, at a notable company for your needs.
*Contact Caliber Collision for details.