Honda Tire Center in Fredericksburg, VA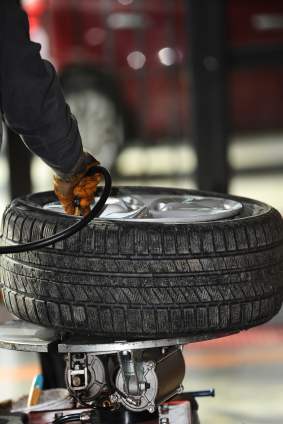 Do you need tires? If so, clear your schedule and visit the team at Pohanka Honda of Fredericksburg! Our exceptional Tire Center has the brands you need, while our experienced staff is at your disposal whenever you need assistance. Though you might not realize it quite yet, you stand to benefit in several ways when you shop for tires at Pohanka. Visit us today at 60 South Gateway Drive in Fredericksburg, VA, to see for yourself!
Tire Service
Following an appropriate maintenance timeline is a wise decision when it comes to your vehicle. Though visiting our Service Department every few months may seem like an inconvenience, neglecting crucial preventative maintenance tasks could be a significant detriment to your favorite Honda's overall health. For example, tire rotations may seem insignificant, but they actually make quite an impact in the long run. By swapping the front pair for the rear, your tires will wear down at a more even rate. That means when the time comes for a replacement set, you could buy four tires at once rather than just one or two at time. Plus, balanced tires mean better fuel economy, traction, and stability!
Tire Sales
Of course, even well-maintained tires will eventually need to be replaced. This is where our Honda Tire Center comes in! To help make your life a bit easier, we make it possible to shop for tires from the comfort of home with the assistance of our online store. Simply filter by your Honda's model and year, and this handy tool will list all the brands and sizes that meet your specifications. If the amount of variety starts to overwhelm you, take a deep breath. Our service team would be more than happy to recommend a specific set that works for your vehicle, so don't hesitate to reach out if you get stuck!
Expert Assistance
Even if you found the tires you wish to purchase online, we don't blame you if you'd rather have our Service Department install them for you. Although we never require appointments, you may still reserve a timeslot for your installation by completing the Schedule Appointment form on our website. Once you're here, you can take it easy in our waiting lounge while we're on the job! We'll be sure to keep you updated throughout the process and can even perform any tasks you might also be due for, like a battery check or wiper replacement.
Here at Pohanka Honda of Fredericksburg, our Honda Tire Center in Fredericksburg, VA, is prepared to be your go-to provider for all things tire-related. Just stop by whenever you're free to let us know what you need. Our staff looks forward to working with you!
Testimonials
GOOGLE
7-9-2020
GOOGLE
7-9-2020
GOOGLE
7-8-2020
GOOGLE
7-8-2020
GOOGLE
7-8-2020
GOOGLE
7-5-2020
GOOGLE
7-4-2020
GOOGLE
7-4-2020
GOOGLE
7-4-2020
GOOGLE
7-2-2020
GOOGLE
7-2-2020
GOOGLE
7-2-2020
GOOGLE
7-2-2020
GOOGLE
7-1-2020
GOOGLE
7-1-2020
GOOGLE
7-1-2020
GOOGLE
6-30-2020
GOOGLE
6-30-2020
GOOGLE
6-29-2020
GOOGLE
6-29-2020
GOOGLE
6-29-2020
GOOGLE
6-29-2020
GOOGLE
6-27-2020
GOOGLE
6-26-2020
GOOGLE
6-26-2020
GOOGLE
6-25-2020
GOOGLE
6-25-2020
GOOGLE
6-24-2020
GOOGLE
6-24-2020
GOOGLE
6-24-2020
GOOGLE
6-24-2020
GOOGLE
6-24-2020
GOOGLE
6-23-2020
GOOGLE
6-23-2020
GOOGLE
6-22-2020
GOOGLE
6-22-2020
GOOGLE
6-22-2020
GOOGLE
6-22-2020
GOOGLE
6-22-2020
GOOGLE
6-22-2020
GOOGLE
6-21-2020
GOOGLE
6-20-2020
GOOGLE
6-20-2020
GOOGLE
6-19-2020
GOOGLE
6-19-2020
GOOGLE
6-19-2020
Read More